Social Events
Welcome Reception (Aug. 21, Start: 18:30)
Place: Beer Hall at Okayama TENMAYA
Address: Okayama TENMAYA Roof Terrace, 2-1-1 Omotecho, Kitaku, Okayama 700-8625
Banquet (Aug. 22, Start: 19:00)
Place: THE STYLE at Cred Okayama
Excursion (Aug. 23, Start: 13:30)
Place: Kurashiki Bikan Historical Quarter
The excursion has a sightseeing guided tour. In addition, there are three activities as follows. You can choose any one from the following tours.
# We will accept your request for the tour during the conference.
Tour 1: Handmade Experience of Traditional Japanese Confection (Murasuzume) (Up to 50 people)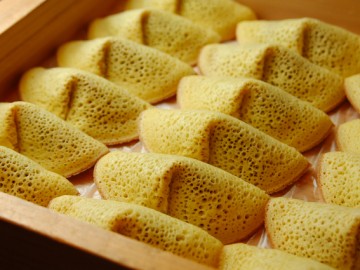 Murasuzume is one of traditional Japanese confectioneries in Kurashiki, Japan. This confection is a crepe-like pastry made with bean paste wrapped in a lightly baked round dough made from egg and flour. The moist outer layer coupled with the bean paste inside make for an elegant sweetness. In this tour, you can try to make your own hand-made murasuzume. Make your own piping-hot pastry with an exceptional taste!
Note that the tour 1 has an age requirement (ten years and upward) and a height requirement (over 120 cm in height) to make the handmade confection.
Tour 2: Momotaro Karakuri Hakubutsukan Museum
(Up to 50 people)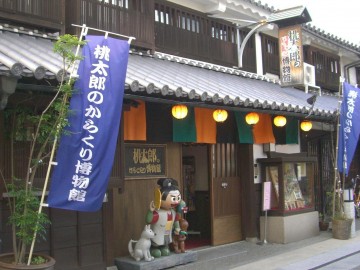 Momotaro, the protagonist of one of Japan's best-known folk tales, is said to be based on someone actually active in the Okayama region. This museum displays woodblock prints, picture-card shows and other materials related to Momotaro, and fascinating karakuri wind-up dolls that fool the eye are on display throughout the museum. Moreover, a Japanese-style haunted house is also opened for an only limited time period in summer.
Tour 3: Traditional Boat Tour of Kurashiki Canal
(Up to 24 people)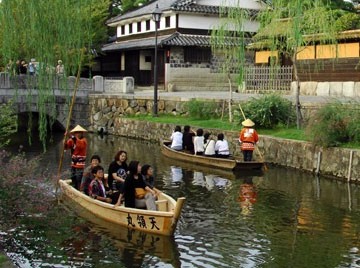 This is a particularly popular destination for tourists in Kurashiki. This boat tour offers visitors a chance to admire the town's white walls from a small boat along the Kurashiki River that flows through the center of town. You can enjoy the sights of the Kurashiki canal from an old-fashioned boat on this 15-minute cruise.
Map